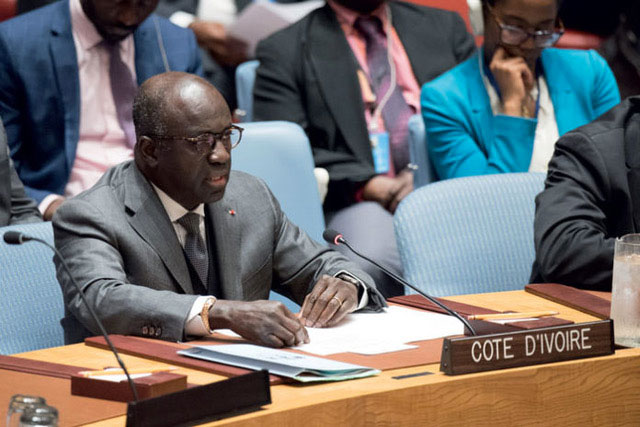 Interview with H.E. Marcel AMON-TANOH,
Minister of Foreign Affairs of Côte d'Ivoire
Seven years after the end of the second most severe political crisis in its contemporary history, Côte d'Ivoire has resurfaced as a hub of stability in West Africa and regained its stature in the family of nations. H.E. Mr Marcel Amon-Tanoh, its Minister of Foreign Affairs, tells us about the significance of the country's election to a non-permanent seat on the UN Security Council, its progress in the national reconciliation process and its diplomacy's contribution to the nation's economic expansion.
The Diplomatic Letter : Mister Minister, the fact that Côte d'Ivoire was elected to a non-permanent seat on the UN Security Council for 2018-2019 is one sign that it is once again a full member of the international community. What responsibilities will this seat entail for Côte d'Ivoire's foreign policy ?
H.E. Marcel Amon-Tanoh: First of all, we were delighted and proud to be elected as a non-permanent member of the UN Security Council – especially as Côte d'Ivoire was awarded 189 of the 192 votes. This election, 26 years after Côte d'Ivoire last served on that eminent assembly, crowns the many diplomatic initiatives set in motion by the President of the Republic, H.E. Mr Alassane Ouattara, to put the country back on the international scene. It was the leadership that our Head of State has shown at sub-regional, continental and international level, in the stands he has taken on the important issues and in his efforts to resolve crises around the world and in particular in our West-African sub-region, that have brought us to where we are now. As regards fulfilling its responsibilities, Côte d'Ivoire will enlighten the international community by sharing the benefit of its experience, and with straightforward diplomatic efforts aimed at effectively contributing to settling the problems the world is facing today. It will serve its mandate in accordance with its values, namely dialogue, tolerance and peace.
T.D.L.: The end of the United Nations Operation in Côte d'Ivoire (UNOCI) on 30 June 2017 attests to the Ivorian peace process's success. What factors contributed to this outcome? How are you planning to leverage your country's experience on the Security Council – especially when it presides over it, in December 2018 ? Looking at the bigger picture, what are your views on the challenges causing tension among the leading international powers today, and on their impact on multilateralism ?
H.E.M.A-T.: The UNOCI has completed its mission after 13 years on Ivorian soil. And it succeeded, first and foremost, because Ivorian authorities had the political drive and the right attitude to see it through. From the very beginning, they implemented a full cooperation, support and submission to all the mechanisms that the UN imposed (embargo and sanctions). It is important to point out that Côte d'Ivoire financed 72% of the process (Disarmament, demobilisation and reintegration – DDR, Reform of the security sector – RSS). This shows, once again, that it was determined to steer this process to completion quickly. The solidarity and cohesion that prevailed throughout this UN mission with the Ivorian State were pivotal to its success. The lessons from this UN peacekeeping mission in Côte d'Ivoire – which has been unanimously commended as one of this worldwide organisation's few peacekeeping success stories – should inspire the UN and the international community as a whole when they embark on similar initiatives in future. When it presides over the Security Council in December 2018, Côte d'Ivoire is intent on raising the international community's awareness on the importance of a quick return to growth in order to enhance the life conditions of the population and thus to favor also a quick return to stability, security and social cohesion. It will also highlight the need to strengthen sub-regional and regional organisations by effectively involving them in the process to solve any crises that arise in their geographic sphere. Côte d'Ivoire will actively support all initiatives and proposals aimed at reinforcing cohesion within the Security Council while seeking collective answers to the big international questions – such as the reform of peacekeeping operations and that of the Security Council itself, wich doesn't reflect today's world. Côte d'Ivoire is fully aware of the support that other nations provided during the severe crisis it weathered, so we naturally want to promote efforts to consolidate international solidarity.
T.D.L.: President Alassane Ouattara has ranked national reconciliation high on his list of priorities since the 2010 election and the crisis that ensued. How much progress has this process made ? What are you expecting from the amnesty he granted almost 800 people, including Ms Simone Gbagbo, on 6 August 2018? What are your views on the election due in 2020 ?
H.E.M.A-T.: Our Head of State, H.E. Mr Alassane Ouattara, undeniably set his sights on national reconciliation as soon as he took office, and has taken numerous initiatives to achieve it. In 2011, former Prime Minister Charles Konan Banny was appointed head of the Dialogue, Truth and Reconciliation Commission (CDVR). This Commission fulfilled its duties for three years and then handed over to the Commission for Reconciliation and Compensation for Victims (CONARIV), chaired by Monsignor Paul Siméon Ahouana. This Commission listed 316,954 victims, which the Ministry of Solidarity, Social Cohesion and the Fight against Poverty is currently compensating. Also in the interest of national reconciliation, 800 prisoners who had ties to the former regime were granted amnesty on 6 August 2018 (13 people had been released on 5 August 2013). More recently, on 26 September 2018, 4,200 prisoners serving sentences for minor offences were granted a reprieve by the President of the Republic. The Ministry of Foreign Affairs' department tasked with assisting refugees and stateless persons has also helped 269,598 Ivoirians who had found shelter abroad to return home. That is about 90% of the total 300,000 people believed to have fled. All this shows that the national reconciliation process is making good progress and that Ivorians will be at peace with each when they return to the polls in 2020.
T.D.L.: The Ivorian economy is expanding fast – and grew 8% in 2017. What are its main strengths, in your view? Income per capita has rocketed 40% over the past decade, so how do you explain the country's limited achievements in its fight against poverty ? What initiatives can Ivorian diplomacy take to contribute to the country's economic development ?
H.E.M.A-T.: More precisely, the average growth rate has been of 9%/year between 2012 and 2016, and it was of 8% on 2017, has you stress it, because of the fall of the cocoa value by 45% on the international market due to financial speculation. The Ivorian economy's main strengths are in the country's raw materials and economic infrastructure. Côte d'Ivoire is the world's leading cocoa, cashews, cola producer, and it can also count on other commodities including coffee, bananas, pineapples, cotton, oil-producing palm trees and natural rubber, for instance for which it is the first country producer in Africa. Beneath the surface, we also have oil and gas, iron, manganese and many other ores. Moving on to infrastructure, our country has two competitive ports: one in Abidjan (Africa's leading tuna port) and one in San Pedro, the world largest port for cocoa (which plays an important role in our raw material exports). We also have road infrastructure, and its development and modernisation have been another of our Head of State's priorities in recent years. Félix-Houphouët-Boigny International Airport, which connects to destinations in the subregion and the rest of the world, won a West African Grand Prix des Transports award in September 2018. And the country's new legislation on investment is more appealing to economic operators in a variety of fields. It is important to point out that Côte d'Ivoire has not failed in its fight against poverty. The two successive National Development Plans (NDP 2012-2015 and NDP 2016-2020), which include debt-reduction components – and which the government set in motion under President Alassane Ouattara's leadership – are essentially aimed at fighting poverty. This has led to substantial investment on various fronts including road infrastructure, the renovation and construction of healthcare facilities in rural and urban areas, the renovation and construction of schools and universities and the recruitment of teachers, the creation of training and reintegration centres for youths, the promotion of jobs for youths, drinking water supplies and electrification in rural areas, and more. We are aware that we still have a lot to do, because we are pulling out of a crisis that lasted over a decade and has gad an incalculable impact on the country's economy. Côte d'Ivoire will push ahead with this social policy until the end of NDP 2016-2020 and beyond, because we see development as a permanent quest. To do that, it needs to reinforce its economy further, in particular through private investment. This is one of the reasons why our President has opted for economic diplomacy. This means that Ivorian diplomats are tasked with promoting the country's products as well as persuading economic operators in their host country to come and invest in Côte d'Ivoire in the processing industries of our raw materials and thus to increase the wealth to be distributed and to create jobs.
T.D.L.: Tomorrow Never Dies, the World Bank's latest report on your country, points fingers at the depletion of its natural resources and its vulnerability in the face of climate change. What kind of cooperation are you banking on to foster sustainable solutions and adapt ?
H.E.M.A-T.: Climate change is a global phenomenon. Côte d'Ivoire is essentially an agricultural country, so this phenomenon necessarily entails the depletion of our natural resources – in particular our flora and fauna. Côte d'Ivoire is calling for a global solution to this global scourge. It is also a party to the Paris Agreement on climate change. Production methods in industrialised countries are making this problem significantly worse. So these countries need to understand that international cooperation is the only way to reach a holistic solution. At the national level, a policy of preservation, rehabilitation and extension of forests has just been adopted by the government for which a plan has been drawn up for a total amount of 616 billion CFA Francs over 10 years.
T.D.L.: Amid deepening cooperation between Côte d'Ivoire and China, President Alassane Ouattara paid an official visit to Beijing on 30 and 31 August 2018, before attending the 7th China-Africa summit. What do you think about the outcomes of these talks ?
H.E.M.A-T.: Before attending the China-Africa summit on 3 and 4 September 2018, Côte d'Ivoire's Head of State met his Chinese counterpart in the course of an State visit on 30 August 2018. These talks led to six momentous cooperation agreements between both countries, including a memorandum on the Belt and Road initiative, a framework agreement on developing industrial capacity, and a framework agreement on the construction of the Tiébissou-Bouaké Expressway. The next day, on 31 August 2018, at the economic forum on investment and trade in Côte d'Ivoire, Ivorian and Chinese partners signed nine business agreements, including one on the development of a dry port in Ferkessédougou, one on the plan to extend Félix Houphouët-Boigny airport, and a memorandum of understanding between Côte d'Ivoire's Chamber of Commerce and Industry and China's Chamber of Commerce on the import and export of machinery and electronics. The agreements reached during this State visit amount to around 1,900 billion CFA francs. That does not include the resolutions at the summit itself, which took place on 3 and 4 September 2018, around an evocative theme: "Towards an Even Stronger China-Africa Community with a Shared Future". Ivorian authorities are banking on this fruitful cooperation to boost Côte d'Ivoire's industrialisation and development. We will be drawing on this cooperation model in our relations with the rest of the world.