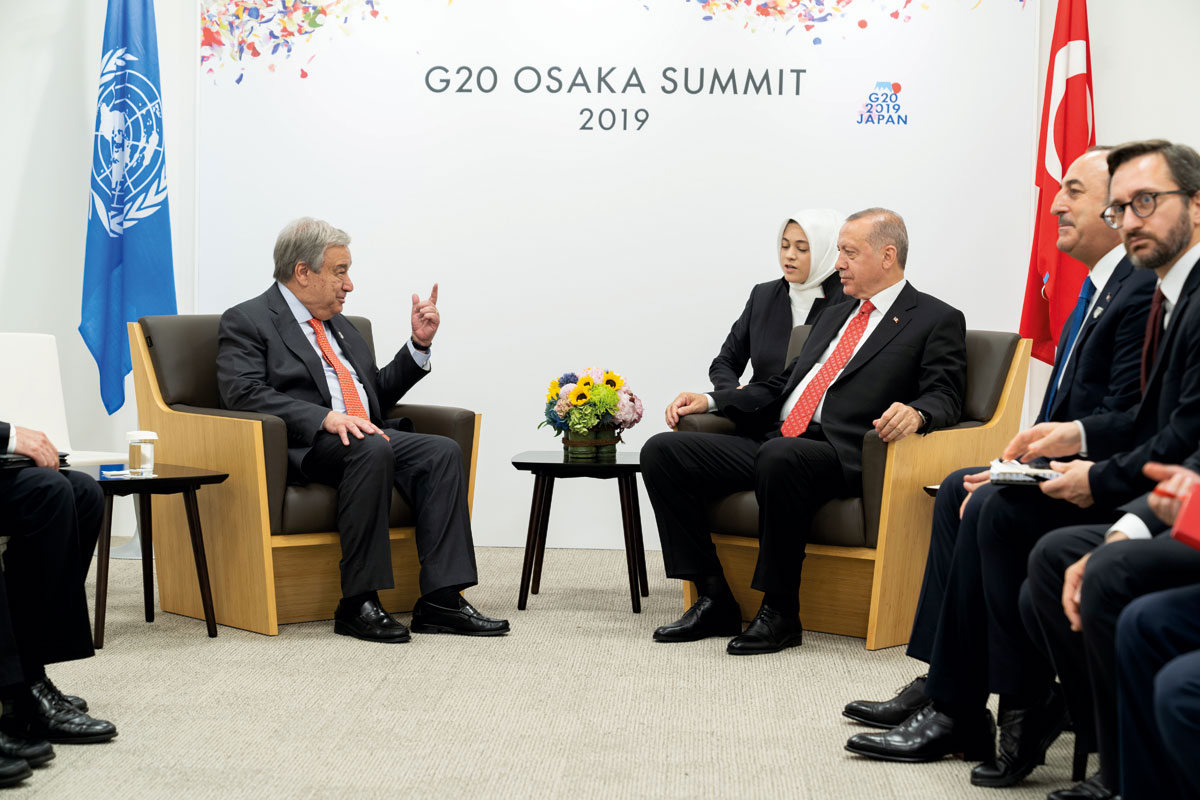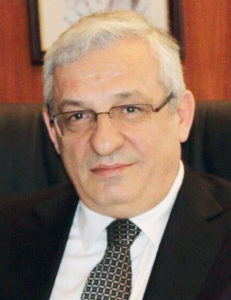 Interview with H.E. Ismail Hakki MUSA


Ambassador of Turkey
By making huge investments to develop the Turkish economy and establish it as a commercial and technological hub between Europe, Asia and the Middle East, President Recep Tayyip Erdogan has resolutely undertaken to modernize Turkey. He is looking forward to seeing this transformation take concrete form during the celebrations of the Centenary of the Republic of Turkey in 2023. With an update on its political and economic realities, H.E. Ismail Hakki Musa, Turkey's Ambassador to France, tells us about Ankara's desire to revive the process of Turkish accession to the European Union, Turkey's strategic role on the regional and international scene, and the specificities of its partnership with France.
The Diplomatic Letter: Mr. Ambassador, after his re-election on June 24, 2018, President Recep Tayyip Erdogan inaugurated the new Turkish system of government. To what extent is this constitutional reform contributing to the emergence of the "New Turkey" that he is calling for? How would you describe the legacy of Mustafa Kemal Atatürk, whose demise was commemorated on November 10, 2018 for its 80th anniversary?
H.E. Ismail Hakki MUSA: Turkey has a long tradition of respect for democracy and the rule of law. It draws its strength from deep historical experience and strong institutions. To achieve its objectives more quickly and more effectively, our country adopted a Presidential system of governance after a referendum held on April 16, 2017.
The new system entered into effect with the elections of June 24, 2018. The constitutional amendments modify neither the republican system nor the fundamental principles of our Republic, and are intended to establish a stronger and more democratic government. A balance of power is clearly established by this new system of government. It limits the powers of the President and Parliament, especially as regards their relations, and also limits the scope for these institutions to mutually intervene in their respective fields. We believe that this new governmental structure will allow our country to develop in a stronger and more stable way, better suited to current issues and providing a faster and more precise capacity to make decisions.
Gazi Mustafa Kemal Atatürk, Commander-in-Chief during our War of Independence, founder of the Republic of Turkey, has guided our history and shaped our future. Through his principles and ideas, he has marked not only the memory of the Turkish people but also that of all nations throughout the world. All reforms carried out in Turkey are inspired by Atatürk's ideals and his legacy to the Turkish people.
In 2023, our country will proudly celebrate its 100th anniversary. Achieving the concrete goals set by our Presidential government will not only enhance the standards of peace and prosperity within the country, but will also strengthen Turkey's contribution to the environment of its own neighborhood and beyond. Our greatest goal is to achieve this vision by following Atatürk's motto "Peace at Home, Peace in the World".
T.D.L.: On the occasion of Europe Day, May 9, 2019, the Turkish Head of State reaffirmed your country's commitment to continuing its process of accession to the European Union (EU). In your opinion, how can "the Helsinki spirit" to which he referred to, be revived? What measures are being promoted to meet the last criteria to exempt Turkish nationals from requiring EU visas? How can the collaboration to manage migratory flows, initiated in March 2016, still meet Turkey's expectations in this area?
H.E.I.H.M.: Our EU accession process began with the confirmation of Turkey's candidacy status at the Helsinki Summit in 1999. It has since continued on the basis of the negotiating framework document of October 3, 2005, with the aim of full membership, which is still our main strategic goal.
For us, this process is not only a foreign policy stance, but also a very important and powerful framework for the reforms that we are carrying out in Turkey. The Turkish people benefit from this process. It strengthens our democracy.
Our country has adopted more than 2,000 pieces of legislation in line with EU requirements over the last decade, despite the scourge of terrorism, the heavy burden of unregulated immigration and a bloody coup attempt. Turkey is implementing these reforms because we believe that our nation aspires to adopt the most advanced standards, i.e., those of the "acquis communautaire".
After a two-and-a-half-year break, we reconvened the Reform Action Group of key ministers in order to resume political reforms. In the meantime, the transition to the Presidential system of government has streamlined the decision-making process and removed bureaucratic obstacles, thus accelerating reforms. The "100-Day Action Plan" announced by President Recep Tayyip Erdogan includes measures relating to Chapter 23 of the accession negotiations, which concern judicial powers and fundamental rights, as well as Chapter 24 on justice, freedom and security. As far as the visa liberalization process is concerned, we have only six criteria left to fulfill. When this has been achieved, Turkish citizens will have to be granted the exemption.
The unregulated migration crisis Europe faced in 2015 has once again revealed Turkey's key role for the EU. Our country has become a key European immigration partner under the terms of the agreement reached on March 18, 2016. We are currently implementing this accord effectively. Thanks to our action, unregulated immigration in the Aegean Sea has decreased by 98% and deaths at sea have been largely avoided. Thanks to our country's efforts, the number of illegal migrants in Europe has reached its lowest level for the last five years, according to data from the European Border and Coast Guard Agency (Frontex). If Turkey and the EU had not reached a consensus on the March 18 agreement, we would still be talking about the immigration crisis.
As can be seen from this example, the bond between Turkey and the European Union is a win-win relationship. The accession of a major country such as Turkey will make the EU even stronger. For this reason, we invite our European counterparts to rediscover the spirit of the 1999 European Council, held in Helsinki.
T.D.L.: A year after the lifting of the state of emergency declared following the failed coup attempt in July 2016, Turkey has been criticized once again after new municipal elections were held in Istanbul on June 23, 2019. How do you explain why certain European countries disagree about your respect for the values of democracy and the rule of law? And beyond that, what comments on the European political landscape come to mind after the elections of May 2019?
H.E.I.H.M.: Since the attempted coup in 2016, our country has been severely criticized for the measures it has adopted to ensure its security, mainly by our counterparts in the EU, despite the serious threat we have been facing. As a founding member of the Council of Europe, Turkey has implemented these measures in accordance with the principles of the rule of law and international standards regarding human rights. As the state of emergency is now over, we want to focus on how we can improve our relations with our European partners.
We are always sincere in our openness to constructive comments. However, as far as criticism of the Supreme Electoral Council's decision to renew the municipal elections in Istanbul is concerned, I would like to stress that some of the comments made by our foreign counterparts are motivated by political considerations. The local elections of March 31, 2019, were monitored by a delegation from the Council of Europe's Congress of Local and Regional Authorities, which was impressed by the skills of the Supreme Electoral Council. In accordance with the laws in force, the very same Supreme Electoral Council evaluated and issued rulings on petitions submitted to it concerning electoral results in various provinces and cities. The Council decided to hold the elections in Istanbul again due to the illegal composition of some electoral councils. And new elections were held on June 23, 2019, under equally democratic conditions.
After this last vote, we will have a period of about four years without elections. Similarly, following the election of the European Parliament last May, EU leaders have a new five-year term. We should not miss this opportunity. Turkey and the EU have a lot to do to ensure the security and stability of our continent and beyond.
However, the EU is currently going through a difficult period. As was noted during the campaigns for the May election, European policy has unfortunately been reduced to a sort of hate speech, the intensity of which is increasing more and more. The founding values that gave birth to the EU are being tested today by threats such as racism, discrimination, anti-immigration and, most especially, Islamophobia. We would like to believe that the EU will overcome these difficulties and decide to base its policy on progress and development, rather than fear and hate.
The values that strengthen the EU are universal. They are also our values. In this respect, we believe that we have a common historical responsibility to protect and bolster the European project.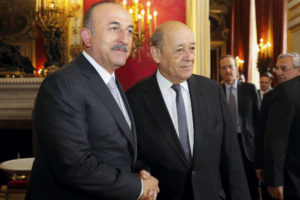 T.D.L.: As the world's 17th largest economy and a member of the G20, Turkey has been in recession since late 2018. Taking into account the New Economic Program (NEP) launched in September 2018, and measures announced on April 10, 2019, to support the banking sector in particular, how would you describe your government's strategy to accelerate the recovery of the Turkish economy? Given the high level of inflation and the depreciation of the Turkish lira, what measures are planned to restore investor confidence?
H.E.I.H.M.: It should not be forgotten that speculators attacked the Turkish economy during the second half of 2018, in particular by exploiting exchange rates. Exchange rate fluctuations put upward pressure on inflation and had a negative impact on our growth. To overcome uncertain global conditions and speculative initiatives against our country, the New Economic Program (NEP), the main leitmotif of which is "balance, discipline, transformation", was announced in September 2018. In the program, which outlines Turkey's economic strategy for the 2019-2021 period, the pre-eminent goals are the fight against inflation, the reduction of the current account deficit and the establishment of sound and sustainable growth.
The figures announced for the first quarter of 2019 show that policies implemented to achieve these objectives have begun to have an effect, and that the economy is recovering. In essence, Turkey's economy can be said to have emerged from the technical recession. Inflation has started to fall.
To maintain the success achieved in balancing the current account, we aim to reduce our dependence on imports and increase high value-added exports by prioritizing industrial policies in key sectors such as energy, petrochemicals, machinery and equipment. The "IVME" (advanced, productive, indigenous, industry) finance package, announced on April 10, 2019 by Berat Albayrak, our Minister of the Treasury and Finance, will provide 30 billion Turkish lira to the chemicals, machinery and agriculture sectors until the end of 2019.
Turkey, which has the considerable asset of a young and dynamic population, is still very attractive to domestic and foreign investors.
T.D.L.: Your country has embarked on a series of major infrastructure projects, such as the new Istanbul International Airport, inaugurated on October 29, 2018. How do you think the current downturn in the Turkish economy will affect their implementation? To what extent are they likely to consolidate Turkey's role as an economic hub? With this prospect in mind, what opportunities can China's New Silk Road project offer your country?
H.E.I.H.M.: Our country has completed several major projects over the last fifteen years, such as the Marmaray rail tunnel linking Asia and Europe (under the Bosphorus); Istanbul's Yavuz Sultan Selim Bridge; the Osmangazi Bridge; the Eurasia Tunnel and Istanbul's new airport. Such infrastructure projects are of strategic importance to our country, and we intend to continue with them.
Work on projects such as the three-storey underground tunnel in Istanbul, the new Dardanelles bridge and the Edirne-Kars high-speed rail tunnel and its connections – currently in progress – will add value to the development of our country. In addition, they will provide easier, more efficient communications within a large geographical area centered on Turkey.
The economic situation since 2018, which is still holding sway in 2019, is not having any negative consequences on infrastructural investments. The fact that our government has respected contracts, including those with international financiers, and has solved various problems through joint efforts, is a major trust factor for investors.
Our country attaches great importance to the development of combined, multicomponent transport corridors which will improve connectivity within its region and support the revitalization of the modern Silk Road. In view of this, Turkey has worked constantly on East-West transport corridors since the 1990s, aiming to improve the continuity of interconnections between Asia and Europe. These studies have taken concrete form in our "Trans-Caspian East-West Trade & Transit Corridor" initiative.
Since the very beginning, we have supported the People's Republic of China's Belt and Road Initiative (BRI). We hope that this initiative will benefit all countries along its route and believe that the BRI and our own "Middle Corridor" initiative will complement each other. We have also signed a protocol with the Chinese side to harmonize our initiatives.
The "Middle Corridor" is faster and more economical in terms of trade between China and Europe. In this respect, we believe that it will be possible for our country to win a significant share of freight traffic in this way.
T.D.L.: During his official visit to France on January 5, 2018, President Recep Tayyip Erdogan said that he would like to see trade double between the two countries. How would you describe the potential for increased Franco-Turkish economic ties? In your opinion, what contribution can French companies, and their knowhow, make to your government's strategy to technologically upgrade your country?
H.E.I.H.M.: President Recep Tayyip Erdogan said during his visit to France in January 2018 that the volume of bilateral trade between our countries was far from satisfactory, that he hoped that this figure would rise much higher and that he thought we would soon begin get closer to the previously-targeted 20 billion euro mark.
At the time of this visit, the volume of our bilateral trade was worth about $13.5 billion. By the end of 2018, this figure had risen to some $15 billion, according to our official figures. According to 2018 data, Turkey ranks 14th in terms of French exports and imports. As for France, it ranks 7th for Turkish exports and ranks 9th for imports. These numbers demonstrate how vitally important our two countries are to each other.
Looking at our bilateral trade on a sectoral basis, we can see that the automotive and aerospace industries have a significant share, but that the electricity, electronics, machinery and metallurgy sectors are also quite substantial. On the other hand, we believe that it would be useful to make an effort to highlight the potential of the chemical, agricultural and textile industries.
Turkey, which has had a customs union with the EU since 1996, is part of the European market in terms not only of borders and tariffs, but also of technical legislation. In addition, our country and France share a common ground which strengthens our economic and commercial bases.
In light of these facts, it is clear that, as President Recep Tayyip Erdogan has said, we can increase the volume of our bilateral trade to match our expectations by undertaking new projects together.
Our two countries have strong organizations and businesses, offering a solid foundation for commercial and economic development. In addition, the presence of a Turkish community in France for almost half a century is helping to intensify our economic cooperation.
T.D.L.: Representing a key component of the Southern Gas Corridor (SGC), the TANAP Trans-Anatolian gas Pipeline was inaugurated on June 12, 2018. How would you describe the risks and rewards of Turkey's growing role as an energy hub in the region? Which other projects are being considered to strengthen this role? How might the ties between your country and the European Union be changed by the planned completion of the Trans-Adriatic Pipeline (TAP) in 2020?
H.E.I.H.M.: Turkey's energy strategy aims to meet its growing energy demand by diversifying energy supplies and transport routes. Our country also intends to contribute to Europe's energy security through various projects. In this regard, we are giving priority to the Trans-Anatolian Pipeline (TANAP), which is the backbone of the
Southern Gas Corridor. The delivery of Azeri gas to Turkey began in June 2018, and transmission of this gas to Europe is scheduled to start in 2020.
In other words, this gas will initially serve to cover our country's domestic consumption, but will later be used to meet Europe's energy needs. To this end, a project to complement TANAP, known as the Trans-Adriatic Pipeline (TAP), is being implemented.
The Trans-Anatolian gas Pipeline will transfer 16 billion cubic meters of natural gas over the short term, including 6 billion for the Turkish domestic market. The remaining 10 billion cubic meters of natural gas will be destined for the European
market and will be transported via TAP. We welcome the recent interconnection between TANAP and TAP on the Turkish- Greek border. This project is crucial for us and for Europe.
We are also evaluating every possible energy source, as well as alternative routes in our immediate area and in other regions. A sustainable, rapid and uninterrupted supply of energy resources in the Middle East, the Eastern Mediterranean, the Caucasus, the Russian Federation and Central Asia is essential for Europe's energy security as well as for that of Turkey.
« In 2023, our country will proudly celebrate its 100th anniversary »
T.D.L.: In February 2019, President Recep Tayyip Erdogan hosted Greek Prime Minister Alexis Tsipras in Ankara. How would you describe the impact of this visit in terms of better relations between the two countries? In this context, what new impetus could be given to settling the Cyprus question? More broadly, how is the discovery of hydrocarbon resources in the region likely to become a driver of regional cooperation?
H.E.I.H.M.: Turkey intends to strengthen its bilateral relations with Greece. After the general elections to be held in Greece on 7 July 2019, we believe that it would be beneficial to make an effort to energize our existing bilateral cooperation mechanisms.
Turkey sincerely believes that the hydrocarbon resources of the Eastern Mediterranean could be an element of cooperation for countries in the region. Yet the unilateral and illegal exploration of hydrocarbon resources around the island of Cyprus by the Greek Cypriot administration in defiance of Turkish Cypriots is not a constructive approach. Activities in the so-called exclusive economic zone, declared unilaterally and unlawfully by the Greek Cypriot administration, are threatening regional peace and stability.
Turkey is determined to defend its sovereignty and the interests of Turkish Cypriots. Our country, which has the longest coastline in the Mediterranean, follows all developments in the region very closely. Within this framework, we are continuing our hydrocarbon exploration work in the eastern Mediterranean.
T.D.L.: Sharing a border nearly 900 kilometers long with Syria, your country has been advocating the establishment of a "safe zone" in the province of Idlib. How do you evaluate the Syrian government's recent military initiatives in this regard? With regard to Turkey's participation in the Astana process, how do you intend to build a lasting solution to the Syrian crisis? In this situation, what prospects for dialogue do yo think are possible with Kurdish forces in the field?
H.E.I.H.M.: We think it is important to maintain Idlib's status as a zone of reduced tension. To this end, we are committed to the Sochi agreement signed with Russia on September 17, 2018, which also received the approval of the quadrilateral summit between the Turkish, French, Russian and German presidents in Istanbul on October 27, 2018.
However, the Syrian regime has stepped up its attacks against Idlib since the beginning of May 2019, blatantly violating the Sochi agreement. Hundreds of thousands
have been killed and hundreds of thousands more displaced by the regime's cease-fire violations. It is unacceptable that regime forces are targeting civilians and infrastructure on the pretext of fighting terrorism. The regime is trying to undermine the peace process by attacking not only civilians, but also schools and hospitals, while causing hundreds of deaths and displacing hundreds of thousands of people. The regime's attacks are raising fears not only of a new influx of refugees into our country and even further, into Europe, but also of the failure of the political settlement process.
Turkey will continue its efforts in future to ensure a lasting peace in Idlib. We hope that the entire international community, including France, will assume its responsibility to avert another humanitarian tragedy in Syria.
The stability and prosperity of Syria is vital to our country. We will continue to work with the international community to achieve a lasting and concrete solution. We believe that the future of that country must be determined, under the authority and control of the Syrian people, on the basis of UN Security Council Resolution 2254. In this context, we are encouraging Syrian Kurds to play an active and constructive role in the transition process, and are taking every opportunity to express the need to constitutionally guarantee their rights on an equal footing with all other ethnic and religious groups, within the framework of the democratic system that will be established in Syria following a political resolution.
Turkey has nothing against the Kurdish community in Syria, but against terrorist organizations which claim to act on their behalf. The PYD/YPG is the Syrian branch of the PKK terrorist organization. The so-called "Syrian democratic forces" are neither democratic nor Syrian. They are a terrorist component formed by the PYD/YPG. This terrorist organization tyrannizes Kurds who do not support it and cannot be considered to represent the Kurdish community. It threatens the political unity and territorial integrity of Syria, as well as the national security of its neighbors, also endangering the future of the Kurdish community in Syria with its separatist actions. Turkey will continue to fight the PYD/YPG until this terrorist organization is completely eliminated.
T.D.L.: Member of NATO since 1952, Turkey has acquired a Russian air-defense system. Why was this done, and how do you assess the consequences for your country's partnership with the United States? Given the renewed tension caused the US withdrawal from the the Iran nuclear deal (JCPOA), how is Turkey's defense strategy likely to evolve in the Middle East? What role could cooperation with Israel play?
H.E.I.H.M.: As NATO allies, Turkey and the United States have based their bilateral relations on universal values, such as democracy, freedom and respect for human rights. The security and defense dimension of our relationship will remain the foundation of our partnership for many decades. The United States is by far our largest trading partner in the defense sector, in terms of both exports and imports.
We tried to buy the US "Patriot" missile-defense system for years. When we realized that we could not aquire system in good time, we turned to other solutions. Our ultimate decision to purchase the Russian air-defense system was influenced by factors such as a good price, an acceptable payment schedule and the technology transfer option. It is important to understand that our country lies in a region which is passing through
an extremely tumultuous period, and that it needs to protect itself.
It should not be forgotten that Turkey and the United States are essential allies and partners. Our cooperation is of crucial importance not only bilaterally, but also with regard to regional and international peace and security. Turkey and the United States can sometimes disagree on how to meet a given challenge. Being able to agree on global strategies that provide integrated solutions to the threats of our time is crucially important.
T.D.L.: As a member of the G20 and the informal MEKTI group of emerging countries, your country is trying to promote a reform of global governance. Considering Turkey's growing presence in Africa and South America, what initiatives does your country advocate in this regard? What specific approach to dialogue between civilizations does it prefer? How could it lead to Turkish-Armenian reconciliation?
H.E.I.H.M.: Turkey is a great supporter of multilateralism. It is playing a pioneering role in several fields such as mediation, peacekeeping operations, counterterrorism, humanitarian and development aid, the problem of migration and refugees, and the "Alliance of Civilizations" initiative.
Today, we are facing a broad spectrum of very difficult challenges, ranging from climate change to terrorism, and from xenophobia to social injustice. No country can stand alone against these ordeals, which are threatening the common future of humanity. We believe that the United Nations is still the most important platform to provide lasting solutions to such common issues. However, there is a clear need to reform the UN, especially its Security Council. It is often paralyzed by the use, or the potential use, of the right of veto. To better meet the world's current needs, Turkey is advocating that the United Nations and the UN Security Council be reformed under the motto "the world is bigger than five", stated by our President Recep Tayyip Erdogan. This slogan expresses a desire to make the Security Council more comprehensive, fairer, more democratic and transparent.
Furthermore, we believe that close cooperation among countries is very important for strengthening peace and stability. Our country has developed a vast network of cooperation which includes High Level Cooperation Councils and trilateral or multilateral regional structures. It has also deepened its partnership policy with Africa and expanded the scope of its policies towards Latin America, the Caribbean and the Asia-Pacific region.
About your question regarding our relations with Armenia, a protocol to establish diplomatic relations and another to develop bilateral relations were signed in Zurich on
October 10, 2009, following a process initiated to normalize relations between the two countries. In February 2015, Armenia withdrew these protocols from its Parliament. However, they remained on the agenda of the Foreign Affairs Committee of Turkey's Grand National Assembly. The protocols were declared null and void by the President of Armenia on March 1, 2018. It is clear that this decision does nothing to help normalize our bilateral relations, nor does it contribute to ongoing efforts to maintain peace, security and the stability of the South Caucasus.
The Turkish and Armenian peoples share a common history and geography; they have lived together for a long time. It is no secret that we have divergent interpretations of events that occurred at some point in our common history. The past can only be fully understood through a compromise between Turks and Armenians. This is why President Erdogan, then Prime Minister, suggested to Robert Kocharian in 2005 that the task of determining (as far as is possible) the historical truth about the events of 1915 should be entrusted to a joint commission of Armenian, Turkish and international historians and other experts. We promise to give such a commission every means of investigation, and to open all our archives. We also pledge to respect any conclusions reached by the commission, whatever they may be. But alas, this proposal has so far remained unanswered.
T.D.L.: In 2021, we will celebrate the 100th anniversary of Franco-Turkish diplomatic relations. What message would you like to send to strengthen Franco-Turkish friendship?
H.E.I.H.M.: The history of relations between Turkey and France goes back much further than 1921: they date in fact to the year 1483, when the first Ottoman ambassador came to France. Political relations between the two countries go through highs and lows, depending on alliances and conflicts. Today, on the basis of deep relations dating back more than five centuries, France is still an essential commercial and economic partner and an ally that is home to more than 700,000 Turkish nationals.
To deal with many regional challenges, stronger cooperation between Turkey and France is urgently needed. More than ever before, we must act together, as the prospects for success are strongest only if we work together in synergy.